1
Maraca palms rattled in the wind that blows onshore incessantly at Xcacel, a palm tree grove with deep white sand fine as powdered sugar on a wide crescent cove. Waves wander in and out roaring rounds of applause. The moon rises immense on a golden road. You hang your finely-woven matrimoniál hammock from Merida between trees and swear spirits swirl all around. The moon bathes you, the Milky Way is clear as day, and a trail meanders through twisted thickets to a cool, clear, fresh-water cenoté.
The Yucatan rests on a thin limestone shelf carved out over millennia of rising and falling seas. Nobody knows how many of these springs and caves there are, but they were sacred to the Maya who called the vast cave system Xibalba, Place of Fear. It has a nice ring.
The underworld isn't heaven. It doesn't have cherubs, it has demons. The goal wasn't to get there, it was to get out or avoid it altogether. On every plane of existence, the Maya weren't ones for fairytale endings. Heroes had their hearts ripped out, and they were the lucky ones.
A violent death was the only way to avoid Xibalba's nine circles with gods like Pus Master and Blood Gatherer. The veil was thin for the Maya, fall asleep in your hammock without covering your toes, and Death Bat sends his minions forth from the Bat House to suck your blood.
One day I was drinking beer in my hammock. A girl named Cory with four inches of dark roots, four inches of bleach-blond, and hairy spiders peeking out of her armpits walked up, plonked down, listened a minute, and said the meaning of life is to serve the goddess.
She said she was a philosophy major at Chico State and rode busses and hitched from Dallas to study macrobiotic cooking in Oaxaca. She drifted down to find a friend.
A chicken bus had dropped her off on the edge of Tulum that morning. Though only a few miles inland past the Mayan ruins, the ocean breezes never ruffled the soft blanket of dust that settled on the streets. And even as the bus sputtered its way out of town, it failed to stir the perennially sleepy village.
Tourists with sunblock on their noses walked past with plastic bags full of postcards, jade statues, and Bimbo cupcakes, so she was relieved to meet someone like my friend Mike at the supermercado and discover Xcacel.
"What philosophers do you like?" I asked.
She looked skyward sideways. "I'm not really into any particular philosophers."
"What are you into?"
"Esotericism."
"Sounds esoteric."
"It is. Very esoteric."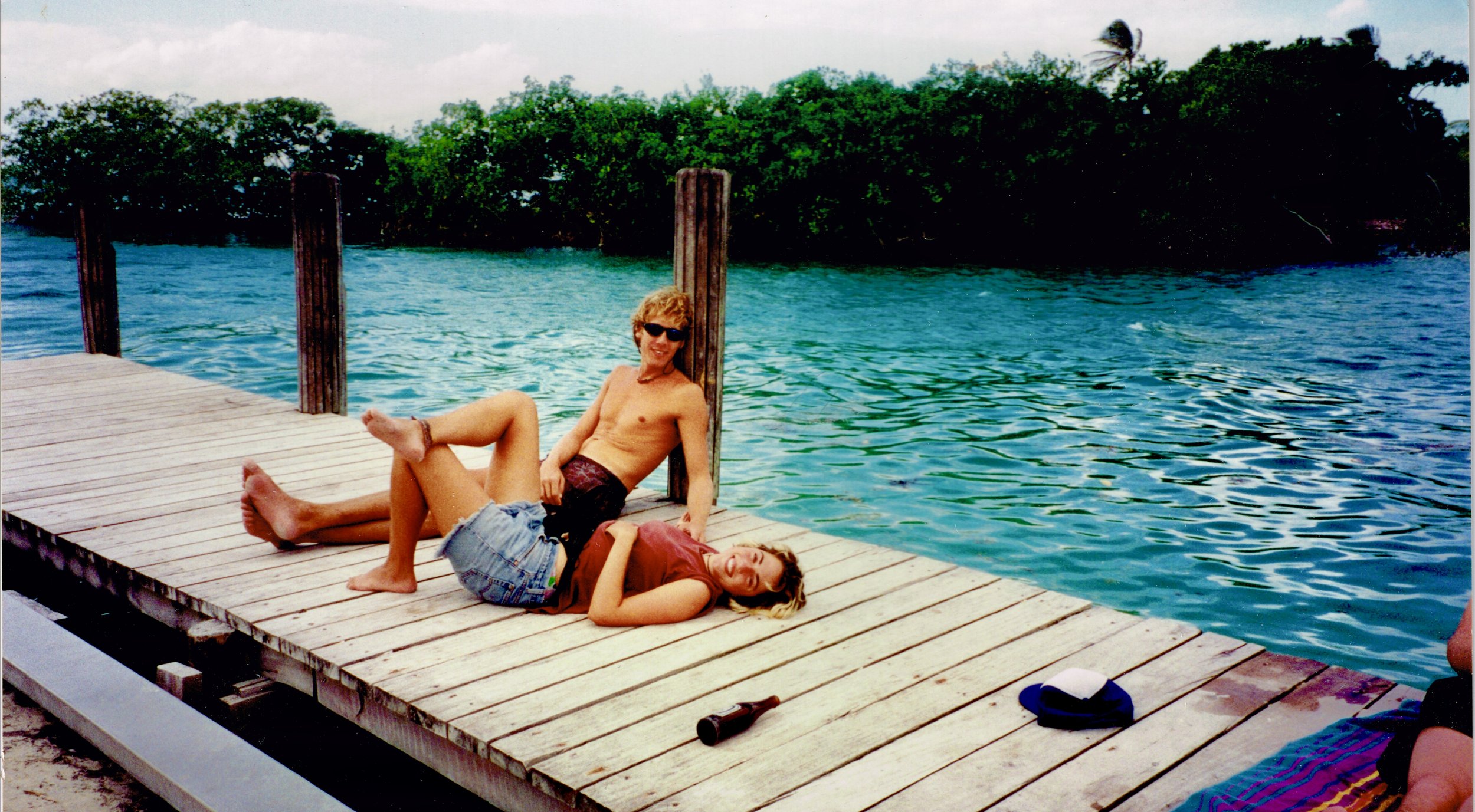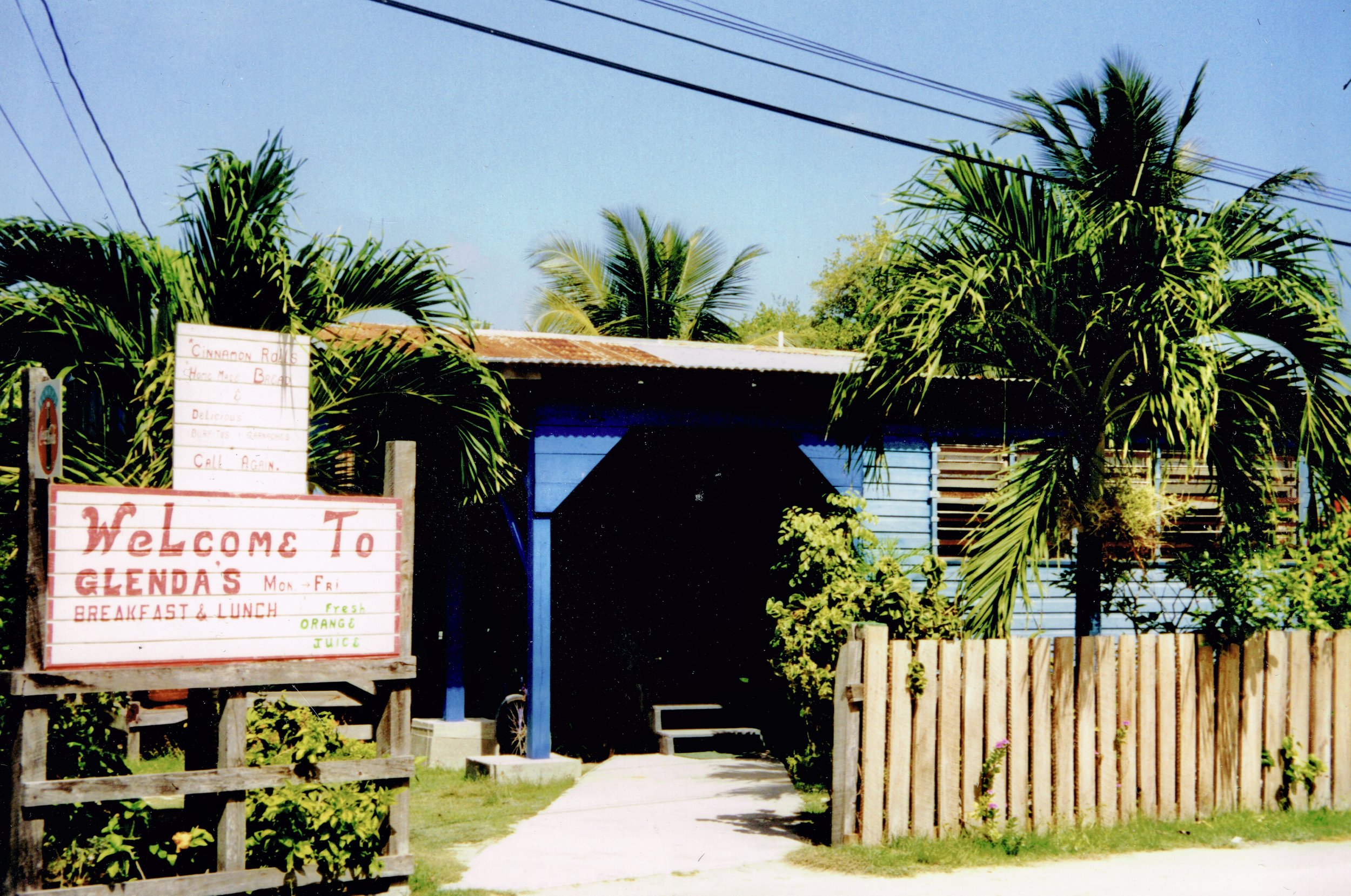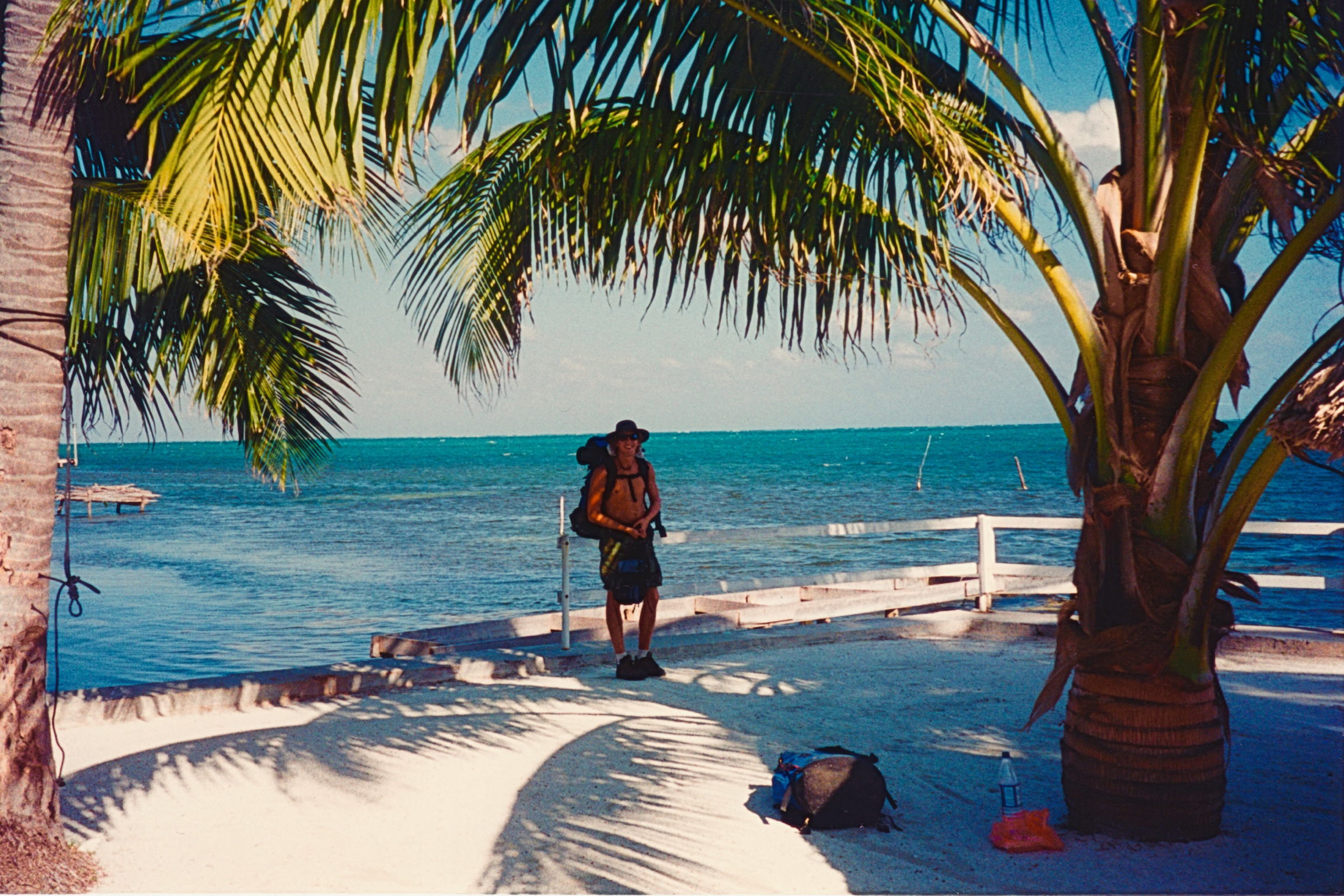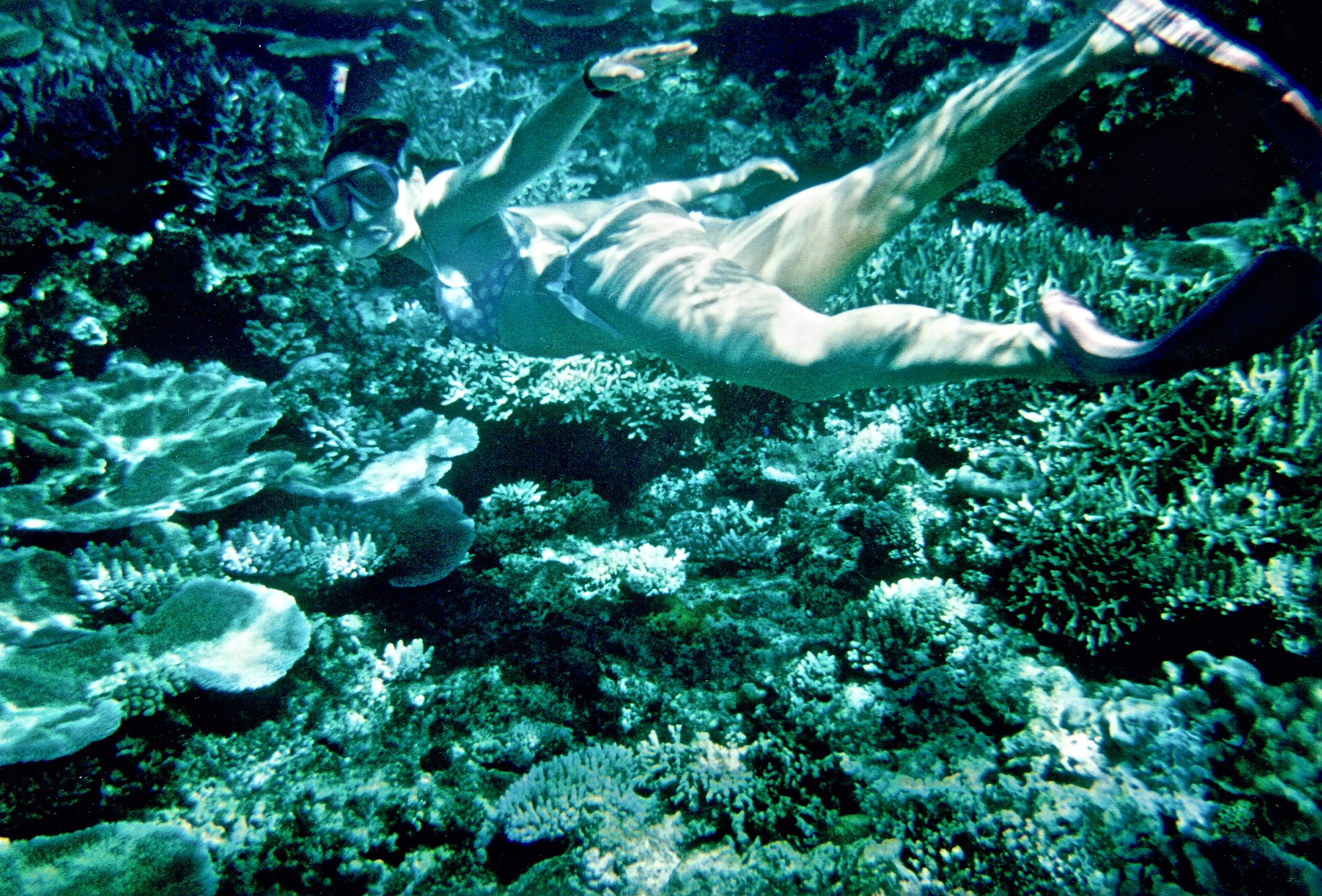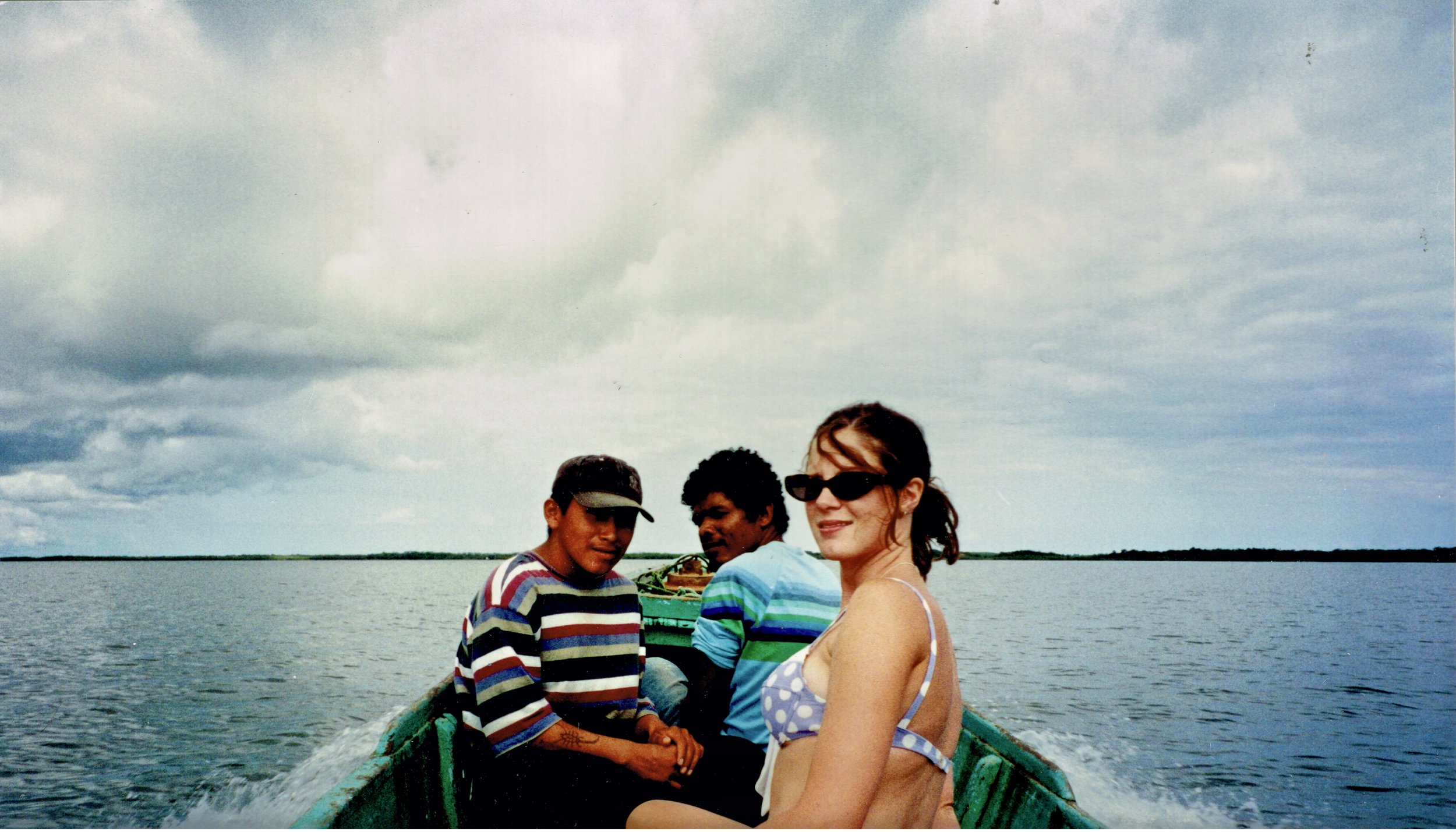 The next day she dumped Mike, hooked up with my buddy Rich, and went hitchhiking out on the Quintana Roo Highway to find her friend.
Rich wasn't just my drinking buddy, he was also my dive buddy. We were rinsing off our scuba gear in the sink behind the restaurant that was always closed when a little red rental car blasted past the young guy at the gate and swerved through the deep sand between the trees.
Cory popped out of the passenger side and said, "Guess who I found?"
Tracey stood up from behind the driver's side door. I sucked in my gut. She wore a tight white tank top. My palms broke into a sweat. She smiled beatifically. My insides liquified.
She's beautiful I may have whispered.
"You're in trouble," Rich mumbled.
I followed him over multiplying by fours. There's nowhere to hide in a swimsuit.
"Tracey picked me up on the side of the road, can you believe it?"
"You're lucky you didn't get murdered," Tracey said. "Or gang raped. You probably would've like that though."
"Probably," Cory laughed.
Sun had brought freckles out on Tracey's shoulders, cheeks, and chest. I tried hard not to stare. I wiped sweat off on my swimsuit and held out my hand.
"I'm Jason."
"Nice to meet you." She shook formally, gently mocking me. "So you're horny tour leaders, huh?"
"I am," Rich bunted.
Tracey removed a runaway wisp from her mouth, pushed her tortoise-shell sunglasses up into her long, dark, wavy hair, and her eyes smiled. Sound ceased and spatiotemporal reality distilled into those deep-set, almond-shaped eyes, cerulean as cenotés, emerald, and eternal. I knew then that I would swim in them forever.
I just had no idea how.
2
Wisps of orange embers floated from the hedges into the night and extinguished, cast off by trade winds as blue ash. The bonfire burned in a clearing next to an open-air hut. The tarps of the hut, lashed down by bungee cords, flapped against the driftwood frame. Inside, at a weathered wooden table, candles lit our faces. Between us, limes, a rusty knife, and a bottle of tequila.
Cory stood abruptly, threw off her shirt, dropped her shorts, and danced around the fire shaking a burning spear – torturously teasing us with atrocious dueling as we kicked back against a smooth log in the cool sand. She offered it to the fire, laughed wickedly, and collapsed on our laps. She threw her arms around us.
"I love boys," she said. "And here I have two."
She writhed. The fire hissed and crackled. Embers whisked away. Hundreds of tiny, green spider eyes sparkled in the thicket. She took our hands and guided them over her cool, soft skin, lay her head back, closed her eyes, and the moon bathed us in its electric blue glow.
The next day, love at first sight.
Tracey drank a glass of red wine and the tannins brought ache of head. She swatted all 417 chemicals in our tobacco and said it was fine if we wanted to have ashtray mouth as long as she didn't have to breathe it. Her father gave her mother half a lung removal with smoking. Weed was another story. Smokestack lightning in a pipe.
The night I met Tracey, me, Rich, and Cory cut the last lines of the devil's snuff with a rusty knife and horked hard. You hit that third rail like a suicide passenger and the synaptic acrobats swing in psychotic ecstasy. Ecstatic psychosis. A vicious spiral of all-knowing tongue-thrashed into every bottle's upturned bottom of meaninglessness.
Tracey yawned. Tracey had none. And none of it.
"Let's go for a swim!" Cory shot to her feet. Clothes on the sand. Tracey's rolling eyes couldn't stop the bulldozer. Cory dragged her by the sleeve out the door to the shoreline, peeling off Tracey's clothes. We followed, drooling monkeys.
Etched in full moonlight, she cut a classic figure of antiquity that served my feminine ideal of beauty in this world, but I wasn't staring or anything.
Cory kept her close and wasn't about to share. They waded out and bobbed up on the waves and disappeared in troughs of isolation. Rich swam out deep to feed the sharks. I floated in the warm amniotic bath praying to the Sea of Tranquility for scraps at midnight.
Tracey got cold and begged off. I followed her like a polite, feral tomcat and jogged ahead to grab her a towel. I gave her privacy while she changed. She thanked me graciously, and yawned.
"You want to lay down in my hammock?"
She smiled. "I would love that."
I guided her through the rabble rousers and lovers, the quiet tents illuminated by lanterns and the bands of wandering gypsies to my hammock.
"It's the matrinomiál," I said, lifting a side so she could witness the intricate weave of silken violet, red, and blue.
"It's beautiful."
"Isn't it? Come. Sit her, in the middle. Slide in sideways."
I took her delicate hand that must've held a thousand lucky things and eased her into place. She lay back and the contentment of cares that slipped through the thread was palpable. Her entire countenance was relaxed. She looked up at the infinity of stars in disbelief and smiled. I suppose the heavens sang.
"Thank you."
"You are very welcome. Now."
I turned to my backpack and dug out my Mexican blanket, pillow, and Walkman.
"You've got Moondance on one side and After the Gold Rush on the other."
"Really?"
"Is there anything else I can get you?"
"This is wonderful."
"I'll come back and check on you in a little while."
"Jason."
"Yes."
"You are one of the sweet boys."
I grinned.
Later her voice called from the doorway, "I'm ready to go now."
Cory swiveled, a kid caught by mom in the basement giving Rich a handy under the table I was ignoring, and whined, "Oh come on."
"Not in the mood."
"But there's two."
"Horny tour leaders?"
"Yes."
"No."
"And meee--"
"Definitely not. Come on if you're coming. It's one in the morning and we have to get up early for the Jeep tour."
Cory crumpled into Rich's lap.
"Bye."
While Cory looked for her clothes and borrowed a book I'd never see again, I told Tracey I was collateral damage.
"I get it."
What did she get? I had a lot of time to think about it alone in my hammock with her scent on my pillow under the chalky road of fate.
The next day the girls strode in while we were grilling a prehistoric crab for Thanksgiving. Cory handed me back my Belize guide and looked to Tracey who said, "We'll make you a deal. No, I think you'll like it."
"Or hate it," Cory said.
"If that's the case then fuck you. Here's the deal. If you'll sign for a rental car--"
"We're under 25," Cory said.
"We'll pay for it, and give you a ride to Belize."
Rich shrugged.
I shrugged.
"Ok."
"That's it? You can talk it over if you want."
"We did," I said, opening a beer.
Rich and I rode what would be our last chicken bus for a while to the Cancun airport to meet the girls and rent a car. Tracey said goodbyes to her mother Sharon, stepfather Bo, and stick-thin, hoot-eyed, little brother Cullen. Sharon wanted to meet me, but I couldn't force myself and sat smoking on some steps almost out of eye shot as long as I could.
"They're about to leave," Rich said.
"I'm nervous."
"Why?"
"I have a weird feeling."
"What?"
"It's stupid."
"Now you have to tell me."
"I think I'm going to know them for the rest of my life."
"Ok that is weird. So what? We're all weird. Come on, can't put it off any longer. They're about to miss their plane."
"So you're the boys my daughter is disappearing with?" Sharon's accent thick molasses.
"Yes ma'am."
Hands shaken. The formality of nomenclature.
"Well, if Tracey trusts you, then I guess I do too. Not like I have a choice." She laughed. "Do I?"
"I'll be fine mom."
Bo looked up from his watch. "Sharon, we gotta go."
"Well I gotta at least be able to ID 'em. Right?"
"I'll take care of her."
"I'm 23. I can take care of myself. Thanks for the vacation mom. I love you."
"I love you too," she said as they hugged. Tracey hugged her skinny little brother with big square glasses. I felt like I'd know him forever, and I didn't pride myself in knowledge of such things at the time. I'd been nervous out of all proportion, I couldn't deny that.
As Bo dragged her away, Sharon looked me in the eye and said, "Please be careful."
We hit the highway at 90 miles an hour with the wind blaring in the windows, beer, joints, and the Stones belting out Sway.
Did you ever wake up to find / A day that broke up your mind / Destroyed your notion of … cir-cu-lar… tiiiiiime…
Tracey's long legs extended up from the crumpled fold of her cut offs, bent 110˚ at the knee, and rode the curve of her calves to her porcelain ankles and feet on the dashboard.
It's just that demon life has got you in its sway
Ten freshly-painted, candy-apple red nails embedded in her supple toes like rubies in a crown. I memorized constellations of freckles on her shoulders -- Taurus -- Scorpio -- and Draco, because she had a wild, uncertain side I'd only caught glimpses of like the flash of a fish tail in dark water.
It's just that demon life has got you in its sway
Men's eyes are highly-trained devices. The hardware may be the same, but the software is designed for hunting. The lines of a woman are traced as naturally as surveying landscape for prey.
Ain't flinging tears out on the dusty ground
For all my friends out on the burial ground
Can't stand the feeling getting so brought down
I was stoned as a bat, so none of the predator's instincts were available to my sharp tongue. Plus I had cotton mouth. And every time I lit a cigarette she scowled at me and complained vociferously -- especially when the three of us lit up at the same time after a joint which is the next natural progression.
It's just that demon life has got me in its sway
We talked about Hollywood. She was in a movie that took her to L.A., studied at Harvard's Stanislavski school, and was up for a big role, but mostly it's way more cattle calls than call backs and struggling to eke out a living with a schedule flexible enough to keep playing the lottery.
I told her about tour leading, taking foreign passengers adventure camping across North America, coast to coast, across Canada, Mexico, hitting national parks, hiking, mountain biking, rafting, horseback riding, parachuting, partying under a full moon in Monument Valley, New Orleans, San Fran, New York, and everywhere in between.
"I even had to assist in a helivac rescue of one of my passengers from the Grand Canyon.. Linda was a bitch."
"Everybody hated her," Rich called out. "Hell, I hated her, and I don't hate anybody. Except Hitler. And Linda."
"She was German, and the most negative person I ever met in my life. She started bitching the very first morning in Miami and didn't quit till the end of her trip."
"Remember Crystal River? Hot as balls. Like today." Rich ashed out the window getting most of it on him. "Jason found this invisible-clear river for us to inner tube down in Florida to break an awful, miserable drive, and she doesn't want to go. I'll never forget what you told her. Paradise or parking lot? You decide."
"Borrowed it from Joni Mitchell."
"I love Joni," Tracey said. "Ladies of the Canyon…"
"I like the cloud song."
"Clouds?"
"Sure. Everybody was so sick of her by the time we got to the Grand Canyon--"
"It was an epic trip -- Rockies, New Orleans, beaches -- you got thrown out of La Vela in Panama City. Bartender disappears so Jason reaches over the bar for a bottle of tequila."
"Bartenders don't like that. No one would hike with her. I told 'em not to go down the Canyon except for the people I knew could do it, but if they did, here's how much to do, how to do it, laid it all out for everyone, hydrate, everything. We went to Angel's Landing -- my first time -- blown mind to bits -- and when I get back up a tour leader tells me the rangers are looking for me. They send me down with Gatorade and Doritos to do a self-rescue at the Half-Mile House -- not a house -- makes no sense. I take Stephanie, a cool German girl with me. A first responder is on the scene. Linda's grabbing her crotch, bucking like a colt with a bee up its ass, doing possessed sit ups, blathering gibberish, not English, not German. Speaking in tongues."
"Dehydrated."
"That's what you'd think, but that wouldn't cause insanity. The medic figured it out because of her tin cup. She used it for coffee, tea, and apparently hiking the Grand Canyon -- instead of a water bottle. When no one would hike with her she showed them by marching down to Indian Gardens -- by herself. Where she proceeded to pound water."
"She drank too much," Cory said, sucking on Rich's cigarette.
"Water on the brain."
"Pressing down on it," Tracey said. "She showed them."
"Brain damage was imminent, so they called a copter off a forest fire while I tried to force capfuls of Gatorade and Doritos down her throat while she fights me the whole time. It came in a quarter mile east of the Half-Mile House, and Stephanie and I had to hoist her over our shoulders and fight-walk her the whole way down to a little outcrop not much bigger than this car. The copter came in from the North Rim -- you could hear it from far away -- you can hear everything in the Canyon -- a rabbit fart. It swooped across the Canyon, and every time it approached from below, updrafts blew it away. Finally, they got in a lull, and these paramilitary cowboy medics touched down on a boulder clinging to the side of the Canyon -- thousands of feet up and down. A woman in a flight suit jumped out and we handed Linda off. She manhandled her kicking and cussing into the chopper with another guy, strapped her in, stuck her full of IVs, and shouted at us to clear. The pilot fired it back up into high gear and blasted off. We ate dirt. He cleared, swooped, accelerated straight up, disappeared over the rim to Scottsdale, and everything returned to pristine silence as though it never happened at all. A hawk cried. A mile high."
It's just that demon life has got me in its sway...
I tried, but think I failed to impress her with my tales of adventure.
"I don't think I'd enjoy your trips much."
"I don't think I'd enjoy your trips much either."
We laughed. Surprised, our eyes met. Deep green warm clear -- flickered away -- desert -- scales, spines, skeletal dwarf pines. Tinderbox. I lit a cigarette. There was something troubled deep down there. She leaned out the window. Hair lashed. Sandalwood, shampoo, and sweet natural girl swirled around the car and woke up something primal low in me.
"Are you almost done with that thing?"
I dropped it in my drink.
"Thank you. So... Linda?"
"She lived. Unfortunately. Boss made me pick her up the next day at the hospital in Scottsdale, hundred miles the wrong way, passengers made her sit in the front with me. She was miserable and they were even madder when we missed Lake Powell -- it'd been a long, hot trip and we were strange. We bought mushrooms at midnight from a hot friend of Rich's in Santa Fe and her friend Special Ed. A dirt devil hit us in Zion while we were hiking. Linda stayed behind and felt sick so she went to the clubhouse to hang out with the identical Mormon quintuplets that ran the place while a dirt devil jumped the ring of tents six other groups set up around ours, ripped our tents to tatters, snapped the poles like toothpicks, and picked everything off the picnic table where she was sitting, oh, three minutes ago."
"A dirt devil? Like the Tasmanian Tiger?"
"An angry little unidentifiable force of nature as hornery as Linda. Funny thing, she shrugged and laughed. Canyon'll kick your ass. But then we get to Vegas, drop 'em off at a casino, and go parachuting. Triple flips out of a flying tuna can with tinfoil wings, pull up to pick 'em up, and pass an ambulance."
"Linda."
"They wheeled her out as I was walking in."
"What a selfish bitch," she laughed caustically and examined her leg, catlike.
"I'd just jumped out of a plane -- a micro-plane, a model aircraft plane -- from a step ladder size step -- so high you see the curvature of the earth -- holding on to the wing brace for dear life 'cause I had this feeling I'd get sliced in half by the taileron -- didn't -- but did three backflips of chaotic insanity before free falling a thousand feet -- the most adrenalin you'll ever feel -- rip the cord -- and float blissfully in the sky, Vegas tiny below, buildings miniscule, people smaller than ants -- pure, total, sublime transcendence -- high as hell -- until the paramedics wheel out Linda strapped to a gurney and the Korean girls who came to America to buy Hello Kitty screaming at me hysterically, 'It is not your vacation Jason! It is our vacation!"
"That's where they're wrong," Rich called out. "Didn't they wear white gloves?"
"Little white gloves to pitch the tent. And flips flops to hike."
"What did you tell them?"
"A bunch of reassuring bullshit. I smoothed it over--"
"Until you threatened to beat up the gay Dutch stand-up comedian if he didn't tip you after a bottle of Canadian Club."
"He deserved it," I said.
"He thought it was his vacation too?"
"I'm probably the butt of Dutch television. Anyway, the coolest thing happened with Linda. I went to see her at the hospital the next day, she was happy."
"Really?"
"Yeah. She didn't want to rejoin the tour, she'd find her own way to San Francisco, and she had a great attitude about the whole thing. She was even joking, joking about herself, with humility, self-deprecating humor. She was genuinely happy. A totally different person."
"I wonder why."
"I think it broke her."
"That's how the light gets in."
"That's what Leonard Cohen says. You like Leonard--"
"Are you guys fucking back there?" She swiveled back and front like an owl. "They're fucking. Jesus Christ Cory seriously?! We're sitting right here!"
BELIZE 3 MILES
"Hey guys," I said, "We're almost to the border. Can you not fuck and put your clothes on?"
Cory crumpled over in the corner.
"Could you please get dressed?"
Nope.
"Cory."
Moans.
BELIZE 2 MILES
"We have to smoke all the weed right now!" demanded Rich .
I braked hard onto the gravel shoulder.
"Put on your fucking clothes!"
"Jesus Christ," Tracey said.
"I had it under control," I said as dust swirled in the headlights.
"You gave me whiplash."
"I've been driving all day and I'm not in the mood for this bullshit."
"Come on," Rich said dressing the rag doll.
We smoked two joints standing at the trunk. I never didn't have one in my hand. When I got behind the wheel the car was spinning around me.
It drove like Luke's X-wing until the border's barrack's oppressive light sucked us in slowly with its tractor beam that felt much more real than the Death Star.
If the inside of a sponge injected with hot syrup were lit with florescent lights and manned with armed guards looking for people precisely like you, this was it.
I slow rolled to a stop in front of the counter square in the center of the Quonset hut and whispered, "You're sure we don't have any drugs?"
"I don't think so."
"I might have a joint in my backpack," Cory said.
"Christ. See any dogs? There's no drinks up here?"
"I'll finish this," Rich said.
The border guards eyed us suspiciously or wearily. My radar was stoned. My smile felt sinister, wave was awkward, and diarrhea was mounting an attack. Midnight Express came to mind. The scene where they string him up and beat the bottom of his feet. I lurched like a captain on the deck of a ship in a storm and glanced over my shoulder to witness Rich propping up his first mate. Tracey alone stood even-keeled until she bumped her knee on the bumper as her disassociation from physical reality reared its head.
The most officious one eyed us with mild amusement. Cory swayed in an invisible wind, Rich looked like he just got off a Caribbean jam band cruise, and I had a forced grin screaming prison.
"So what brings you to Belize?" He had a lovely lilting accent.
"We're on vacation," Rich said.
We got a visual shakedown. Especially Cory. I had to get the attention off her.
"Actually," I put my arm around Tracey, "We're on our honeymoon!"
"No," she sluffed it off, "we're not."
"No," Rich said, "Actually, it's a double honeymoon!"
"Really?"
"Sure," Tracey said, "Why not?"
"Ok den. Congratulations. Is dat your car?"
"We borrowed it." I said.
"Excuse me?"
"I'm joking. We rented it."
"In Cancun," Tracey added.
"We're going to take it back," Cory said.
"I should hope so."
"Of course we are."
"After our honeymoon."
"Our doublemoon."
"I see. Do you have your passports?"
We shuffled through pockets careful not to pull out rolling papers.
He inspected them and said, "Jason Gorbett. Is dat you?"
"Yes sir."
"The car is in your name?"
"Yes sir. I'm over 25 and have a credit card, so..."
"I see. And you're taking the car back to Cancun?"
"Yes sir," I lied.
He stamped my passport saying, "Welcome to Belize!"
3
We drank strong road sodas then they passed out. Night was dark with no lights hundreds of miles. The headlights illuminated the jungle's reach for the winding two-lane highway, and I saw the flicker of eyes with no hint of pelt or feather.
I was glad when Tracey awoke. I asked her where she lived in L.A. Venice.
"Venice is the only place I'd want to live in L.A."
"I'm four houses from the beach."
"Yeah I'd be ok with that."
"Right by Jim Morrison's old house."
"Wow. See. That's the cool thing about L.A. Do you see famous people all the time?"
She was dating Jeremy Renner, but he wouldn't be famous for a few years.
"Pretty much."
"That's surreal. I know Faulkner, Fitzgerald, and Hemingway spent time in L.A."
"The center of the creative universe. It and New York."
"And London. And Paris, Bollywood, Toronto, Vancouver--"
"For America."
"Hemingway said if you have to deal with Hollywood throw your book over the California state line and run like hell."
She smiled, beautiful in the dashboard lights. Achingly beautiful. So close yet so far.
"So, do you have a boyfriend?"
"I'm kinda dating somebody in my acting class."
"Nothing serious?"
"I broke up with my serious boyfriend three weeks ago."
She pinched the bridge of her nose.
"I'm sorry."
She wiped away tears. "Shit happens."
"You have to keep moving the fan. How long were you together?"
"Four years."
"Jesus. I'm really sorry."
"Yeah, it was bad. He's never gonna grow up."
"Who does?"
"You tell me."
"My old man did. He lost his first family. He was 19, she was 17. They had two babies. She took them away. Shut him out. When I came along, he made up for it in spades."
"He sounds amazing," but she cried harder.
"What's wrong? Did I say something?"
"No." She kept crying. "It's not you. It's not him. I lost my grandmother a month ago."
Quiet sobs.
"Oh god, I'm so, so sorry."
"What's wrong?" Cory asked.
"Nanny."
Cory put her arms around her. Tracey clenched her hand. I put a napkin in the other. She blew hard. I handed her more.
"Nanny was my rock. She was the one person who was always there -- even when I ran away. I was so stupid. I treated them like shit."
"You were 14. You were tortured. Anyone would act like that if they went through what you went through. I was crazy, and I had a normal childhood."
"Was?" Tracey laughed through tears.
"I guess I still am, huh?"
"Yeah kinda -- we're in Belize in the middle of the night with two strange boys."
"Men," I said.
"Yeah, whatever."
She laughed and lightened and I relaxed.
"Thank you Cory," she squeezed both her hands. "I love you."
"I love you too."
The lights of Orange Walk Town crept up in the distance. I wrapped my knuckles on Kare's Guesthouse door, and a surly, disheveled Mestiza in a man's bathrobe and pink slippers led us down a dark hallway smelling of Raid. Tracey's back was killing her, so I dragged her suitcase. Not a light packer.
Cory stumbled into the first room, Tracey grabbed her suitcase, and pushed past Rich. Cory whined. She wanted Rich. Tracey shut the door in our faces. Arguing. The door flung open, and Tracey said, "She's all yours."
Rich smiled. "I've never seen anything better in my whole life!"
Kare stared at him coldly.
"No seriously."
"Twelve dollah."
"What a steal! You should charge a lot more!"
Tracey and I followed Kare or not Kare down the hall.
"If it's Okay with you," I said, "we'd rather not be right next to them. They make a lot of noise, if you know what I mean. Doing it."
Kare ignored me, but Tracey smiled and glanced over her shoulder.
"How you doing with that?"
"I've got it if it kills me. I think it will."
She opened the door to a room with a double bed and pink wallpaper hanging off in strips. A moist oppression hung in the air.
A crease cleaved Tracey's brow. "Have anything with two beds?"
"Dis all I got."
"Fine."
Kare not Kare shuffled back to bed.
"Kare doesn't care," I said, "If that is her real name. Or if it isn't. Either way, we're going to have to make the best of this awfully awful situation."
"I bet you hate it."
I settled into bed. It collapsed into the middle. I hated that a lot too. Saving this little surprise until she came back from the bathroom, I lay in bed twitching my tail.
"That bathroom is foul!" she burst through the door like a hotel fire. "How does mold grow on the top of a toilet seat?"
"Clever?"
She had on a Crosby, Stills, and Nash T-shirt I hated because the only music we had was a 6 CD set and love the one you're with is a jazzy, disharmonious, callow statement crawling under your skin worse than anything Mayans suffered, although she sang Southern Cross like Gabriel's angel. She had on floral underwear I didn't hate too. She slid into bed, said goodnight, turned out the light, and slid into the center. I could've gnawed her flowers off before she nodded off.
She slid into bed, said goodnight, turned out the light, and slid into the center. I was already there.
"Oh my god."
"Sometimes in life you have to do things you hate."
"Make the best of it?"
"Pretty much."
"I'm tired and I'm wired."
"How about a back massage?"
"I just want to sleep."
She faced away and hoisted herself to the side. In a moment, she was back.
"Hi."
"I can't believe this."
"Travel much?"
"I've been to Hawaii."
"Still America."
"Mexico."
"Condo."
"France."
"That definitely counts."
"Locked in my friend's grandparent's house in the middle of nowhere the whole time."
"You missed a great country. Listen, you wanna head scratch? Strictly platonic, I swear."
"Really?"
"Really which?"
"Both."
"Of course."
"Yes please."
She grappled for the bed ledge. Her hair spilled over the pillow. She smelled of soap, shampoo, and sweet girl. I scratched my nails deep into her scalp and she arched her back and moaned. How did I not thrust into her? I do not know.
I scratched hard for five minutes from every conceivable angle with a playful language I imagined she could understand. She thanked me and turned out the light. Something must've got lost in translation.
"That helped a lot," she said, "Thank you."
"You're welcome."
"Night."
"Night."
Her breathing slowed and deepened. I watched the wallpaper droop far too long.
4
"Fields of sugar cane," I griped to Rich as we rocked on the front porch. "Nor a drop to drink."
"Let's get a cup of real coffee."
"Let's get a real cup."
We set off for adventure, but Orange Walk Town forgot to set its alarm. Cocks crowed and chickens pecked, goats chewed cud, and night shades wept, Xbalanque set and Hunahpu evaporated mist, yet Orange Walkers slept through all this. Jumping across shifted sidewalk plates we heard a growl in the shadows of the otherworld overtaking the back of the cinderblock buildings.
"I never heard that."
"Not your housecat Buddy," Rich said.
Something dies so something lives. Caged by jungle in this outpost feels deadlier and vibrantly alive. We maintain the wall for brief moments, if at all.
"Imagine worshipping jaguars dropping out of trees," I put forth.
"You mean the God of the Old Testament?"
"What was he so mad about?"
"Real estate."
"Location, location, location. I guess I'd have a badass mascot if all I had was this lousy oasis."
"Or Cincinnati."
A jaunty old odd fellow with a syncopated spring in his step stood on the corner staring at the sun.
"What the hell's he doing?"
"Must be stoned," Rich said.
He was and he had and we bought it and smoked while he told us it fell out of planes, washed up on shores, and fell off trucks. There was so goddamn much of it they couldn't smoke it all.
"But," he shrugged. "Gaati gaati no wanti, wanti wanti no gaati."
We bid him adios and traipsed back to Not a Kare's. The girls were still asleep. Then they were hungry. There was no breakfast. Then they settled for a sandwich. Then they didn't have tomatoes, or fresh tomatoes, or lettuce, it's wilted, provolone, no provolone, anything besides Kraft singles, could I have a little more mayo please, Jesus H, the ordering would never end.
"I have a hard time finding food I can eat," Tracey explained. This is where the phrase "high maintenance" was coined. There's a mint there now.
The early bird gets the worm unless the worms come out later. We don't eat worms. We slept till noon thirty. Once we got in the car, Cory and Tracey wiped the fog off the inside of the windshield with their hands so no one would ever see out it again, she backed into a car, asked what she should do, and when we yelled get away she revved in neutral, jammed it into gear, peeled rubber like a true secret agent, breaked hard at the exit, looked left, looked right, and asked, "Which way?"
"South."
"Which way is that?"
"Right," Tracey said.
"Left."
"Which is left?"
Tracey shrugged, "I still have trouble with that."
"That way," Rich pointed with his long limb in front of her face.
"I wonder how much rental cars cost," I said, splashing an extra rum shot on my stormy.
"Relax," Cory said reaching for the joint as gravel from the shoulder spackled the inside of the wheel well. "We'll get it back."
She was so drunk within the hour Rich drove. I sat in the backseat microwaved by the window too stoned to conversate with Tracey – all those wasted hours – while trash blew around the floorboards.
The sun beat down on Belize City like a blacksmith. Under red-hot tin roofs, its denizens wilted in darkened doorways and screened-in porches. The little red rental car had given up convincing us it had AC, and the vent belched a putrid excuse of a dying man's last gasps.
"What the fuck are we doing here?" Rich asked.
I studied the Insight Guide. "There's a restaurant right on the ocean. We can figure it out there. Just park."
He paralleled into a row of parked cars between Haulover Creek which cuts Belize City in half and a line of raised houses with head-high porches behind high gates. We spilled out like astronauts on some alien world to the number one hit sound of that summer, fall, and winter by noneotherthan the man you didn't know you needed so bad. The hometown hero and Garifuna god who rippled the world wide with the bong le le beat, Mr. Titiman Flores.
"Are you from America?" a peddler boomed over bong le les.
"How could you tell?" Rich asked.
"This one," the ragged vagabond thumb pointed.
"Oh we know," Cory said pressing past to slip into the stream of a headmistress's little line of pelicans. Where did all these people come from?
Outboards whined up and down the river, the nation's carotid, carelessly swamping old men in mahogany dugouts reminiscent of J.M.W. Turner's "The Fighting Temeraire tugged to her last berth to be broken up."
"I'm Andrew," the peddler thumped his chest, fell into step.
"I'm Rich."
"I bet you are."
"And handsome."
"Oh yes!"
"Now you're just blowing smoke up my ass."
"Can you spare a cigarette?"
"I see what you did there."
He grinned. Rich stopped and lit one for him.
"Thank you! Now…" catching up to us, "I bet you five dollah you can't answer this – who is de American, just like yourselves, Americans, and I'm not, who say, 'To those who have suffered in slavery I can say, I too, have suffered. To those who have battled for liberty, brotherhood, and citizenship, I can say I too have battled.' Who said dat?"
"Dammit," Rich said.
Big white teeth beaming smile.
"You'll give me 5 dollars if I'm right?" Rich asked.
Beam gone.
"I joke."
"Come on!"
"I'm doing my patriotic duty. Ok. Not George Washington."
"No."
"Not Benny Franklin."
"Correct."
"Jefferson? Lincoln... Don't tell me. Can you give me more?"
"Fredrick Douglass!"
"Oh man!"
"Isn't it funny that Americans know less about America than non-Americans?"
Thunder rumbled in the Maya Mountains.
"Hilarious. Here." Rich slapped a five in his open palm. He bowed graciously.
As walked off Rich muttered, "One more man with a cheap bottle of wine, I feel good."
The cool, dark shade of the Port Authority office looks like a scene straight out of Graham Greene. White men in white straw hats with black bands. Lazy fans. Brats to neverwhere to and fro. I jumped the stairs and sprinted to the lady behind the counter with a flyswatter for a purpose.
"When's the last boat to Caye Caulker?"
"Tomorrow."
She assassinated a fly.
The girls were on the apex of the Swing Bridge barking heat stroke.
"I've got to get out of this sun," Tracey said. "I don't mean to be difficult, but I'm dying here."
Fuchsia brushed her cheeks and chest.
"You're a white girl," I said, "C'mon, it's close."
I led them down, past the fishmongers, beyond the open air market the town if not the nation revolved around. I paused in my mind to imagine the guns, mahogany, slaves and Maya culture excoriated, but time stomped on.
Behind a massive metal gate, up stets, through an alley, the cafe with picnic tables, a little kitchen looked out over the dark river swallowed by the sea's opulence, emerald cayes, and the palisades opposite where the Baron Bill Memorial celebrated a man who came to recover from illness and fell so in love with Belize and its people he bequeathed them 2 million pounds never having even stepped on shore when he passed away on his yacht, The Sun King, in 1927. It's that great.
"Sit anywhere you like."
"I never get tired of that accent," I said.
"British and Caribbean," Rich said. "Perfect storm."
"How come you never hear anything about imperfect storms."
"Hadn't happened yet."
We followed the girls to a table where Tracey could sit half in the shade of one dead palm frond and ordered our first Belikins, lager and moza, light and dark. The moza's rich, sweet, and malty.
"A winter beer," I decided. "The lager however is light and crisp and goes down like sunshine if sunshine could be cold."
"Which it can't," Rich said. "Because that's exactly the opposite of what it is."
"Otherwise I feel good about the analogy."
"You shouldn't."
"I do."
"Wrong, but honest."
"That's me."
"I can't eat anything on this menu," Tracey said. "Can we order?"
"And would you please bring her a sense of humor."
Tracey cracked the air with a witch's cackle and I liked it. Smart, funny, beautiful -- the only three things I ever wanted in a woman. Love is a war of attrition. With enough time, I knew I could get her to fall in love with me. Was there enough time? How much time was enough was comparable to defrosting hamburger in Schroedinger's microwave. You tinker with time, reprogram the future, push her away. Not hard enough, she slips through your Indra's net, which she can't see, and you're only 26, and don't really deserve any merit because you haven't actually earned anything and you're living on borrowed dime.
"Hamburger. Fries."
"Me too."
"Me three."
"Is the chicken in the chicken sandwich fried or grilled?"
Grilled. Wheat? White. Iceberg? Yes. Tomato fresh? Yes. Mayo refrigerated? No. Skip it, and no fries thanks.
The waitress whisked away in her invisible heat shield, and Tracey crumpled under the shade.
Cory raised a bottle, "You better Belize it!"
Stone statuary awkward, curving into goofy grins. Clinks of glass and taps of Tracey's paper cup. Sugar spiked my gasoline. The prime tumbler moved. Machinations unstoppable set in motion. Dante's trapdoor gawped beneath my Chucks.
"I want to go out to the islands," Tracey said.
"I want to dive the Blue Hole," Rich said.
"I want a boat," I said, parting the Insight Guide to a fancy fishing boat glazed in coolness, Captain Handsome manning the bridge in classic Ray Bans, a couple of scuba divers on the verge of an abysmal bloop into fathoms of sapphire.
"Is that the meteor that wiped out the Flintstones?" Cory theorized.
"Makes sense," Tracey circumnavigated the blue hole with a long languid finger.
"Makes too much sense," Rich said. "They'll have to relo. No big. They do it every few years," he looked at his watch and off into the horizon lit neon yellow for him, "It's Kazinski's third law of science theorems."
"Ted Kazinski," a fly almost flew in Tracey's mouth, "the Unabomber?"
"Ed. Totally different guy. Brother."
"OK, you're just fucking with me. Fuck you."
"Scientists are so fucking flaky." Cory's teeth looked like pearly gates when she laughed.
"I nearly became a scientist," I said arranging napkin shingles into the golden ratios of Tracey's face, "the box is just too small."
An altercation of crows squawked out the evening tide's soliloquy.
"Oh my goddess," Cory said.
We turned to see two crows jackhammering a white one with an enriched hamburger bun.
"White crows are sacred," Cory sandal stomps them away. "Those racist crows won't hurt you anymore baby."
"Have you met Wittgenstein yet?"
"Is he a tour leader?"
"Yeah no. Philosopher."
Cory lit a cigarette and disoriented a mosquito the size of a nickel with the flume, "No."
"In his sexiest work, Tractatus Logico Philosophicus, he proved the invisible architecture of a logical universe way beyond Plato, Kant. Fools! This was truly fine Corinthian bullshit."
"Life," Rich broke into his jingle, "is just a bowl of bullshit."
Here's the catch. Ludvig is a genius, so he knows it. He calls bullshit on himself. Ran over the Tractatus, Bertrand Russell, and the entire garage of quantum mechanics, backed over 'em beep beep, leaving logic for dead in some ancient Norse burial ground, moved into a cabin where he lived alone for 8 years thinking about Alice in Wonderland, never speaking to another soul ever again, and died."
"Good story," Rich said as he pushed his styrofoam plate away, stood, and lit a Marlboro red. "Socrates is my favorite philosopher. The gadfly of Athens. I'll never forget that. Condemned to death for corrupting the youth of Athens? That's trumped up bullshit."
"Hemlock," I mumbled. "Make a great movie."
"If you like guys in togas," Tracey said.
A pelican splooshed swallowing a silver flash of fight at the river's mouth.
"Animal House 2. It's not jungle juice."
Slouching, Cory said, "I have a confession. I dropped out of Chico State. After one semester. I wasn't a philosophy major. But I took intro!"
Tracey's laughed cracked and reverberated in me. Her joy resonated inside me, a harmonic I couldn't fathom.
"That's hilarious," Tracey said.
"I never thought I'd see you guys again."
"Surprise," I said. "Why'd you drop out?"
"Too academic."
"The number one stoner school in the nation?"
"Could've been that too," Cory smiled impishly.
"I knew it was bullshit," I said. "Esotericism isn't a field of philosophy."
"It should be," Cory said. "Didn't you study at Harvard?"
"The Stanislavski school," Tracey said.
"What are your master's in?" Rich asked.
"Philosophy and journalism."
"Oh shit," Cory said.
"Richard Harris spit on me front row at the West End production of Pirandello's Henry the fourth."
"I'm happy for you."
"It's in my locket. I also saw Peter O'Toole in Geoffrey Bernard is Unwell swaying farther and farther as he got drunker and drunker I wondered if wires were his trick. But no."
"Between scenes in Cinderella when the lights went down, I fell off the stage."
"You're dangerous."
"An actress without a stage is a dangerous proposition," Tracey said.
She looked away and I followed her gaze out to the burning sea. A straining sailboat swathed a corset of foam tacking toward Caye Caulker. I wondered what dramas played on that antique stage, what tragedies inspired by dreams siren song, fools left floundering in shiftless graves with epitaphs written on sand... here lies every man ever smitten.
"Where do we go from here?" Tracey said. "You're the tour leader. Lead."
I smiled wondering if the reason I wanted to please her was because her face had been made by the exacting standards of the golden ratio or her magic pheromone potion or enslavement to the chains of my double helixes, all three, and more...
"In the morning, we take the first ferry to Caye Caulker."
Floating, arms akimbo, legs asunder, holding her between the bikini string of gentleman and devil, drowning in gossamer honey salt sharp, tracing watercolors bleeding into a portrait of my alabaster oracle whose Ophelian locks wander in the geometry of light and water lulling me into her auric eyes, pathways to the cosmos where she and I intertwine our souls forever. What the hell am I thinking? I'm living on borrowed dime, a lacking montebank. But that -- epiphany -- is what I do have! I'm going to invent a new syntax to describe her skin. A new lexicon for her sexiness. New slang for her brain to play with me in. A new language to keep her lamp burning through nuclear winters, 'cause that's life, it gets bad... The spring flows though and I'll quench her thirst and water our garden... set the caged bird free in flight of ideas and arias of Ave Marias...
"I'm not staying in this shithole. It smells like garbage."
The stuff dreams are unmade of...
"The Maya Mountains hide more hijinks than we could ever solve. Caverns you can inner-tube through, it's a biodiversity superhighway, what's left, jaguar, sloth, tapir, gibnut, margay, the resplendent quetzal worshiped by the Maya for its iridescent feathers that helped them hide in plain sight, a coat of many colors, and they're home to the greatest Mayan site in the world, Tikal."
"Which one's Tikal?" Cory asked.
"Luke Skywalker blasted over it," Rich said, "into the vacuum of space roughly equivalent to this Star Wars reference -- of pure laser awesomenality!"
"If it's not Mayan, it's urine."
"Hilarious. Where is it?"
I pointed beyond the feathered hills to the hazy chain of Belize's eastern spine. Thunderheads unfurled bolts of pain from a god nameless to me, sucked out by the American vacuum of the sacred.
"South? There's a place I've been dreaming about since I was stuck sleeping and writing the World Party Guide in the same room I called the belly of the pink pig hibernating for the eternal London winter, abbreviated days, and not a pint to piss in. The Garifuna, a mix of Carib and settled after a 200-year Odyssey on the water that has as its main street a sidewalk."
I let the Guide fall open.
Placencia…
5
The cadence of a road trip rises and falls on the contours of landscape, time, and speed. Every Subaru, Taurus, Ram, Saturn and Galaxie that ever crossed a black-ribboned continent burned the same fuel that catalyzes the universe and catalytic converters like the one in my dad's hulking brown 1972 Cadillac. Hit the gas, light the fire, time traveling. There's no cow in the middle of the road, cop in the rear-view mirror, or Amish guy in a funny hat going four miles an hour in a horse-drawn box that can crash into that level of adrenal acceleration. That's because you now exist in a parallel dimension. Poets who smeared squid ink on dried bark with peacock feathers praised the firmament of the heavens. Long before Pythagoras conjured spirals out of squared circles and Newton named the colors, something cranked the universe's ignition. Luckily there was a a matter of imbalance, particles of matter ran a long a ratio Pythagoras would've wet himself over. One billion to one billion and one. Thus hadrons bore the universe we like from its cradle of light. There's more.
Cosmic clocks spiral out of control at high velocity, especially with the windows down, ponytails whipping pretty girls, and the radio cranking Crosby, Stills, and Nash. A copper dirt cloud obscures the road ahead like the cauldron that fourteenth century mystics called the Cloud of Unknowing where angel fire sparks illumination. Who cares if trash swirls around the floorboard? Who could deny the harmonic convergence of an angel riding shotgun except the angel?
"Is it hard to be so beautiful?"
"Yeah."
"I'm sorry."
"It's not that bad."
"It's probably hard to know when somebody likes you because you're beautiful or because you're you."
"Yep."
After we swam in the stream I dozed off and dreamt that Tracey and I floated down a muddy river on a raft. We were on an expedition to the Amazon, going after a reptile called the Orinocueño. It'd been described by the locals variously as a snake-like crocodile and a boa constrictor with legs, and razor sharp teeth and claws; it had killed many people. Every so often there were bright flashes underwater. The raft was low and it put us right at waterline – in the water I could see now – and we were scared, and decided we didn't want to see the creature after all but just wanted to get past it – but Tracey had her feet hanging over the side and I told her not to – she complained – it was her birthday – she could do it if she wanted to. I said it was just my birthday but I couldn't do it.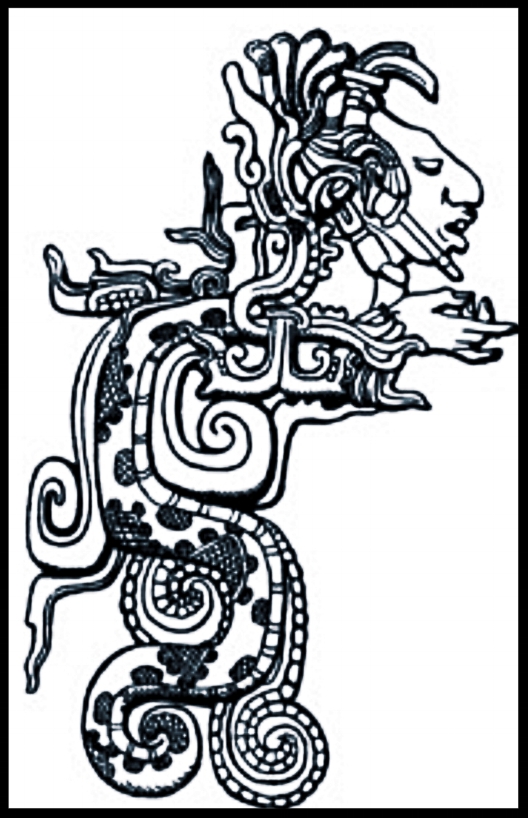 Serpent Visioning with the Shaman's Secret Herbs & Spices
Masters of Branding, no civilization rivals the semioticians of the OG cradle.
There was another flash and the raft tipped over spilling us into the water and we were holding onto each other underwater for dear life and screaming bubbles and it was eating her and I didn't feel it yet but knew I would, and I couldn't move my arms to fight and I couldn't see it but it was eating her from the feet and legs up, and I knew that no matter what I loved her with all my heart. Paralysis gripped me, my heart clinched. I was going under, I couldn't breathe, I was suffocating. I had to get away, to get out of there, to breathe, I was drowning.
I awoke to the darkening forest lit up in gold spots of sunset and realized why the Maya saw the sun god Hunahpu setting in his animal form. Swallowing, sublime Maya homeland lived, breathed, and stalked as a jaguar.
The moon -- crescent, half-lit in the middle, pregnant -- rose in a churning purgatory of sky. Fall leaves littered the road. They smelled earthy. The end of something. A gum drop of rain splashed on my head on a smoke break. The rains came. Six hours behind, four hours, and hundreds of wash-boarded, invisibly potholed miles before a bed? I fish-tailed six or seven times. Every 15 minutes. Keep it between the ditches? The yellow hulls of Caterpillars rusted in testament to their betrayal of us. The ditches were six feet deep. No getting out of that on a night like this.
Lightning strobed. Thunder tolled. Kukulcan fought Huracan, Cain and Abel. I was in no better mood. I was thinking these thoughts; Hammer, I love your nails driving in my ears... Scald my heart with resentment... Cut me with a 1000 petals... Put my affection on ice... Drain my blood with passive-aggressive needles... Drink it with a side of fresh-squeezed lemonade... I love you to death... I can't say why... Cross my heart and hope to die. Real soon.
My wish came true. Coming down around a bend I lost control -- hydroplaning -- toward graves dug for us quite thoughtfully. I turned the wheel slightly from side to side. Not my car to call mine. A wild horse with a better head for physics tan me... Pressed the brakes lightly... sliding to death...
A forked tongue of white lightning licked the sky. Right at us. Out of nowhere. Zeus's thunderbolt. Olympic death match. It split right in front of our eyes. Rich saw it. Flickering blue electrons popped off. It sank fangs into two sentinel pines either side of us. Cracked them. Wracked them. Electric poison finished them off. They died for our sins. They died so that we may live actually. I guess that's why they're called sentinels. And why the Mayan Kulkulcan and Aztec/Toltec Quetzalcoatl manifested in so many emanations. Snake. Quetzal bird. Coat of many colors. I read in the Insight Guide Quetzalcoatl was believed to be a white dude with a beard -- not native to the Americas -- who sailed away whence he came -- the East -- on a raft of many serpents. Now what the fuck are you supposed to make of that? It's why Cortez got the keys to the kingdom. And Captain Cooke too before he came back one too many times and eaten. Hawaiians were a wise people.

The tsunami of thunder that followed rumbled cups in holders. The windshield. It'll put the fear of god in you. Imagine capturing and harnessing that kind of power. It could elevate you to a comfortable hell. Maya and Aztec priests and nobility with higher god concentrations smoked blood, drugs, and chemicals on a mirror to divine -- well -- divinity. Just like we did in high school on Bill's Twindow.
"Hold on," I said, "just in case."
I took my foot off the brake – hands off the wheel -- let the wheels straighten out. Two fingers on the wheel – venture slight left turn. Tires respond. Sliver of control. Not enough. Ditch gawping. Lead a little left, ballerina brake taps. Sailing for rocks. Night/injuries/jungle...
...and missed the ditch by inches.
"Did you feel that?" I asked Rich.
"Yeah."
"It's when the car came under my control. Cory, do you know anything about Quetzalcoatl lord of lightning?"
"Not a clue. I know he, or she rather, was the god of lightning. Probably thunder too."
"Not esoteric enough?"
"No, it's more exoteric."
"Mm."
"You got played son," Rich said.
I smiled at Cory in the rearview mirror. She snickered with her consort, and said, "It's so spooky tonight."
"We are listening to Edward Scissorhands," Rich said. "For what I'm fairly positive is the seventh time today."
"It's not our fault y'all didn't bring any CD's," Tracey said. "We didn't know you."
"If I hear CSN even with Y one more time I might wreck this car in a ditch on purpose out of madness."
"You don't like CSN?"
"Too jazzy for me. Something inharmonious."
"Why didn't you say anything?"
"Because you liked 'em."
"It feels like All Hallows Eve," Cory said. "Halloween."
"It was a dark and stormy night," Tracey said in a deep macabre voice, "when our stinky little rental car skidded off the road into a ditch! We had many bruises, and bad head wounds. When suddenly, out of the shadows of the jungle appeared a tribe of fierce pygmies. Their teeth filed to sharp points -– dripping with blood! Tattoos of previous victims covered their bodies, and they wore skimpy little loincloths -- made of human flesh! We locked the doors but they busted through the windows and dragged Rich and Jason off, and slit their throats with machetes. Yes. Then they came back to pillage the shitty little Nissan for leftover take-out boxes, and more importantly, women. They dragged us off into the dark haunted jungle to their -- cabana of horrors!! And these little men with huge cocks stripped us and tied us spread-eagled to stakes over a bonfire of human bones. The flames licked our erect nipples. They defiled us over, and over, and over! We exchanged voluminous amounts of bodily fluids! And loved -- every -- minute -- of -- it!"
I laughed so hard I missed the turn and drove 40 miles out of the way. I pounded the roof of the car in the deluge and was answered by lightning. And thunder. My rage didn't make me special. Years on the road blindsided me. Long-term sleep deprivation, amateur chemistry, and booze to float a fleet tortures you into an ork. Wincing, flinching, random needles in your eardrum, in your eyelid, eyeball, calf, carotids. Stand up straight? Eyes converging on the road somewhere out there in the rain? Not part of the equation. The longest I ever went without sleep was six days. I don't recommend it. Every cell agonizes. Worst of all, sonic hallucinations.
"Hey," someone said.
"What?" I asked.
"What?" Rich asked.
"The void. It's howling."
"Keep that to yourself."
People think you're crazy till they find out you're right. I respect, treasure, and never let go of the ones who don't wonder. Still, I don't think the others felt the breath of Death Bat or Lord Pus'n'Boots. If Tracey's hadn't annihilated the tension in the little red fetid bog wound tighter than a Swiss clock with a pygmy orgy that turned me on even though pygmies and roasted nipples are not really my thing, easy to imagine though, therefore far more frustrating for my compass pointing due, true north, and bewitched by the lure of shifting magnetic poles Cory could probably explain esoterically, if flames hadn't licked her erect nipples, then I'd have bet one rolling Japanese ass can that as soon as I parked in the mud place cars were brought to drown in Placencia, she'd vanish into the blinding tropical blankets of rain so many hearts had been ripped out for finally visible under one abysmal light.
"This is a car graveyard," Rich said.
"Waanti waanti no gaati, gaati gaati no wanti," but my accent failed me.
We staged the evacuation from the fetid ass can, grappled with wallets, pillows, suitcases, backpacks, a triage of snacks, cigarettes, beer, baggies, roaches, make-do roach clips, keys like Noah, what's-her-name, critters (even hermaphrodites, shhh), and every other culture with a story about a boat and the end of the last ice age.
I counted, "Three, two, one!"
Two pairs of flip-flops and Rich's size 13 ATV's splashed ankle-deep on the path to the Sun Ray Motel, but I couldn't move. She disappeared like I imagined. Tropic noir. I wanted to follow her, but the two thoughts -- of me, of her -- were ships passing in the dark night of the soul. The breaker broke. Box exploded. Synaptic circus came tumbling down. The will to inactivity held me -- giddy, bad, a thief -- of what? To watch raindrops gather enough mass to finger paint the windshield with hundreds of tiny watercolors? Of time? Of myself?
Have you ever seen yourself out of the corner of your eye? Xibalba. It ain't out there. Pus. Blood. Bones. They're in you. They are you. You gotta get through this gig yourself. Nine levels of hell. I was on 10.
Tracey dated Nordic semi-gods. I was a train barreling toward a wreck And that is what we call love…
6
Stargazers. Honeysuckle. Hyacinth. Sometime in the night sweet flowers mingled with salty breezes. A cicada chorus, palm shuka-shuka, and restless waves awoke me. Rustling. Inside the room. I cracked an eye. Tracey bent over suitcase splayed open on bed, rooting through socks, deodorant, shorts, bra, fresh out of the shower, hair ringing wet, smelling sweeter than honey, with her white towel riding all the way up. I surveyed nose. I surveyed toes. I lifted my head half a degree to see better, breath immaculate. She fustled. Turned. My eyes slammed shut, not too slammy. Of course, I'm still asleep, can't you hear this deep breathing? It's not some pervert behind you heavy breathing...
She folded shirts and shorts; stuffed socks into corners. She searched and searched. I prayed for something very small. This time alone with her -- and I considered closing my eyes, rolling away, her privacy -- but logic won the day. She graced my life in this manner for very, very long seconds. Each contained an epoch, possibly two, and up to that point no one had ever lived through an entire epoch. Except for me. To describe it less temporally and more analogously, say, as a junkie (I know a lot of junkies. Or a friend told me Jim Carroll said this), shooting heroin, riding the dragon, is like kissing the face of god. Riding not a dragon, but the dragon, the only dragon there is, and could ever be, doesn't come near kissing the face of god, said with those words in that order, or you could be what? Just kissing god on the mouth? Dragon's better. No, god slips you the tongue is better, I can hear the junkie debate club echo down the science hall. God rounds second easily, eyes on the prize, in it to win it, tags third 'cause it's there and splurp! Virgin pops out a savior. Bada-bing, bada-boom! World religion! All these thoughts and thousands more didn't kiss the face of god or ride my dragon over the epochs.
What I saw was not the dragon or a dragon. It could be comparable in some quarters to a ride. Cairo. If the ride was the super cherry magical platinum chariot of a way-chill writer god who shoots across the Milky Way in one big eternal orgasm (my freshman definition of heaven). She is that fine. She's not some doe-eyed yokel who wandered off the turnip plantation yesterday and turned up at the County Fair like some slutty molested wagon trash to cock-gobble up fat white men. Before Father Knows Best desert tribes showed up late to the party with a dog-ate-my homework shit circus sideshow of snake oil salesmen, she wasn't porn meat or your mom.
She was the mother. She brought you into this world. She could take you out. Defend to the death -- suffer no fools -- her symbols were scales, double-headed ax, bow and arrow of the woodland maiden worshipped forever, only ever glimpsed. Siren songs sailors died on. The silver naked lady on mud flaps from the Alaskan tundra to the tip of Tierra del Fuego. They love their mother Mary in Latin America, they love the virgin Mary too, but I'd bet my huevos rancheros they'd rather spend one sultry night with a real silver naked lady than an eternity with their auntie of a Holy Mother Mary nagged endlessly to carefully refill the tea, it was the good "China," (why did His well spring eternal?), nodding politely at the cherubs, cross-stitching crucifixion (crucifiction?) scenes on doilies for renowned ass-raper Father T., valiant protector of fat lazy men who molest, rape, put down, torture, and burn goddesses alive. She rejected offers of enslavement, yes. Did they have to rape and murder everybody? Deicide and genocide are the hottest tickets in town for a big daddy to kick up his heels, fire up the grill, host a harem everybody'll be talking about Monday morning, melt down the scales of justice, and enlist an army of nutless piss-ants like Father T. to victim blame, guilt trip, tax, kill cultures, languages, medicines, wisdom, and rewrite history for dummies in illuminated text. Thieves of god.
Pythagoras's god was a mathematician. Da Vinci's, an artist. Nietzsche's: dead. Everybody's right and everybody's wrong. That's how I think of the big idea guys that build their shiny new thought structures along Madison Avenue. They had nice this, or did that well, but nobody had a unified theory of everything. So I remained devoutly agnostic. Until that moment. That towel. Those sunglasses. The time of my conversion.
She found floral panties and a light blue sundress with green hummingbirds sipping red nectar cocktails. Pretty sure I broke a couple of laws against myself in the shower and walked down main street. The palm tree bases were painted white and spattered with sand. The rain had washed the world fresh. Birds of Paradise were in bloom. Fragrant enough for sniffing like a fool. Houses on stilts lined the walk. To my left, the clear Caribbean soaked into the sand. Folks nodded, barefoot and carefree. The sun was warm on my face. It could fuck itself.
I love Hem. I don't care what they say. He was a devil, but he wrote like an angel. His alchemy was distillation. The V's of light in "The Old Man and the Sea," I saw off the Blue. Dad's devilish ways died in the wreck of his battleship gray '62 Porsche. His father drove his car -- rare for a Depression family -- into a ditch drunk too. He wheezed to death when he could still bounce me on on his knee. I stubbed my butt out in the sand, smoke pooling. Everything you love dies. I never wrote that book. Dad was too big to fit into it.
In the summer of '72, the year Ziggy Stardust, Exile on Main Street, and Tracey were born, he was larger than life. I was three. He was 36. I too would be 33 years older than my child. When I was a child, we'd moved out of our cottage house in town to apartments far away on a river, the Chattahoochee River, waters of the painted rock.
High on the hill the pool caught all the breezes of that summer. That summer my dad was a bronze god. Tall, radiant, and handsome with that shit-eating grin and Lucky Strike hanging out of the corner of his mouth. The pool was Arcadia that summer, the first time I truly spent time with him.
Everyone liked him, except those he bellowed his wrath at with balled-up fists that could shake the Earth. And I was just like him. Golden brown tan, long golden hair, stocky, feet firmly planted on the ground knowing just who I was and what I wanted. And I wanted to be just like him. He beamed the first time I jumped off the diving board without my Styrofoam bubble strapped around my chest and sometimes neck. The sun was warm, the water trickling off me into the deep blue was cold. I rubbed the goose bumps on my arms. He said I could do it. Calm. I'd done it across the side. Reasonable. He knew I could do it. Baritone. He knew I knew I could do it too. Emphatic nodding. The next instant, midair, locked and loaded to doggy paddle my heart out, emphatic smiles mirrored on our faces. His of pride, of faith in my courage, absolute. I hold that moment, tingly and frightened with fear and excitement as live as a fallen power wire, in suspended animation 45 years later, not five miles away, and a million miles between. Then I went under.
The dance of light and water captivated me as it had the first day he strapped me across his back and said hold on, hold your breath, three two one... A tortoise with his boy on his back, he reached out and parted the water with arms as powerful as legs and legs that kicked like a horse. We'd thrust and pause, me floating past him if I didn't hold on tight. His hair was long, it waved like squid tentacles. Ever-present and all-encompassing, snaking sine waves of light buoyed our flight, too magical to explain, too sublime to have to. We were of one mind.
When I came up to the ladder that first time I jumped off the diving board, he roared. He scooped me off the ladder. He held me in his arms. I was his Mutt Mutt, his Pistol, his Tiger Paw. His redemption. He was my rock. I didn't know he spent the summer with me because his gas station went bust, the Pegasus on his black jacket meaning nothing. I didn't know they almost divorced that year. I didn't know about the woman with hairy nipples. Or the miscarriage. All I knew was that some moments stretched into infinity. The cools winds came and they closed the pool one day. The Temple of Poseidon would receive us no more. The gate locked on the summer I was three forever.
A fork-tailed flycatcher somersaulted for bugs over and into heaving swells. A clever shark should've ordered the chicken. Sugar-coated in sweaty sand, I decided to join it, stood and turning caught sight of Tracey passing on the path with a meek smile and slight, polite wave. I pretended not to notice. Was I spinning fast enough for her not to notice? The memory of her body that morning flashed through my mind like the quicksilver of a fish disappearing in dark water. I saw her. She knew I saw her and snubbed her.
"Fuck her," I muttered with vitriol and venom -- under my breath. I didn't look back in anger. I looked ahead in anger twice-burned with a scorch of guilt and loud enough for anyone to hear cursed her, "Goddamn shitbird!"
I heard my Dad come through me. I wrestled with his anger all my life, even as he'd reserved the curse of the shitbird for special people who truly deserved it, like me on occasion. I dove head first into an oncoming wave that pushed me back standing where I started. After the foam quelled, I slipped gently into the receding tide that carried me away like a canoe. I set bubbles free from my yearning lungs and sunk in coffin repose, hands in prayer, eyes to the sky. The surface is threefold. A mirror to the underworld. A hypnotic pane of ellipses, parabola, and hyperbola. And their panes of sky, cloud, palm, and beach morphing from three to five-point perspectives vanishing on time and tide. Unworthy, I contract, hide, ball into embryo's amniotic amnesia.
Lungs expanding, I unravel, plant firmly in terra incognita, and torpedo into the air, arm outstretched, head back, and give thanks to the whatevermacallit. Devoutly agnostic embalmed in too-smart-to-take-a-side self-blinding brilliance secreting a sarcophagus of shame. Half-expecting to splash down into some bullshit baptism where I'm absolved of all my sins of commission (its past paled against its future) -- and my favorite cologne -- Sin of Omission. My mask has its own collection of masks it hides in its skeleton closet. You don't have tell everyone everything you know.
And that's when I saw the pterodactyl.
Reverberating through the waves I could see it obviously had an 8-foot wingspan. I chortled water. "Christ Almighty," an agnostic testified. It was like a glider. A small plane. A Paleolithic Stealth. It glided along the tree tops I'd say about 50-60 feet high, and it was as wide as all the fronds of a palm. Eight feet wide. Five, six long, with long legs trailing behind in another zip code and a snake replacing the bundled baby because it was a goddamn stork. Red ringed its neck, and as I later learned, the jabiru is the biggest bird in the Western hemisphere. Anybody can be born a cargo plane, but the jabiru's real genius, and I'm only skimming the surface here, in one fell swoop, is the baby's ability to look like a rotten carcass. Gray. Dead. No protein. Carbon 13½. Maybe. Ugly hath that most sublime of jewels. The Lord, if forgotten, has the last word. Yea, Thine Third Law, Newton, Chapter 4, Verse 7, and so it was, The Lord sayeth unto every action beget unto me an equal and opposite reaction.[1] To wit, ugly tips scale in baby Jabiru's favor, but tip-toeing on bent-backward stilts downgrades the adult's walking career prospects in the killing fields of crocodiles.
[1] Nothing ever happens unto me. No unto.
To make matters worse, Jabiru must fly human babies in bundled blankets at life-threatening heights with no thumbs opposed to tie their knots or insurance back and forth the world over from Mexico to Argentina. Jabiru didn't like to read the fine print. Couldn't read. The irony was, Cousin Ibis was a goddamn scribe. And a god. With a man bod. Jabiru thought his cousin was just another hack who wanted to play god. Thoth. In particular. Shunned for being "different," a "weirdo," the only member of genus Jabiru, all that shit. So good 'ol "swollen neck" turned to low-level wetlands, carrion, and kleptoparasitism, estranging his adopted family. Wood and Maguari storks are sensitive. Poor choices, drug problems, and bad management fueled Jabiru mycteria's desperate last-minute bid for redemption, two house mice, and a nibbled mollusk. All he had to do in return was dip his quill and ink a binding non-arbitrational contract, in perpetuity. They slit his throat and stuck him with the bill. He called his cousins in Australia and Africa who locals called Jabiru since Pangea, one pretended the call dropped and the other was too busy fighting his own battles. The Australians renamed him, another victim of identity theft.
For all that, Jabiru is no coquettish Tree Swallow, Tithead, or Great Tit. He's a free bird, except for his wife who he mates with for life -- 36 long years. Their chicks open-mouthed gawping at the living sausage, so ugly they're beautiful. Jabiru sails across the sky in a pure state of transcendence slipping easily between ethereal streams of three elements until it vanished against the emerald tapestry in a leaf and feather cloak of invisibility.
The tapestry barely whispered of the worlds within worlds hiding beneath its folds. I've always had some nagging feeling I caught a glimpse of a tear in the matrix. Every time I think about it I imagine the blueprint of the universe written in illuminated text. It glows. It hums. It sings everything into being. Was it real though, or a dream? Like a dream inside a dream, you can't wake up to it. You can't tell if it's a real memory or the memory of a dream. Like three dimensional posters, you have to blur your vision for the picture to come into focus. You'll never see an ocean in a drop of water unless you know how to look.
Etak is a way of knowing of the Ariki, oceanic astronauts history obliterated. A man stands on his outrigger canoe riding an immense, dark swell deep in the Pacific, the outer space of his day. He doesn't see the stars, sea, colors, kelp, or shapes of waves the way we do. He sees through the eyes of all those who came before him. They gave him their memories. He is a memory man. He sees the unseen because he knows how to look. He navigates unfathomable distances and space and waves and gyres through the eyes of the travelers who calculated the geometry of heaven, the Qalandar, zero, and crossed The Empty Quarter's ocean of sand.
The Ariki plunges in his paddle, drawing continents to him, standing still on an unmoving ocean.
The serpents of light writhing around my shadow on the little dunes of the sea floor came into sharp focus. I couldn't go to her. I could draw her to me. No one knows how strange attractors tether across vast distances of the quantum sea, but that doesn't stop them from giving head scratches. Above the trees the sun burned off dew. The sliver of waning moon beyond the horizon. Time spiraled down the bowl. Soon it would shit me out the other side and I'd have to pick the corn of my self-respect out again. I paddled the shore to me.
After so much blinding blue the land shined brilliant with the emeralds and jades of a Jurassic botanic garden. Which it is. The land bridge of the Americas cross pollinated and cut off with rising and falling seas. The result is 70 kinds of forest, 750 trees, and 4,000 species of flowering flora. To put it in perspective, the U.S. and Canada have a thousandth the diversity with 730 trees. I walked in the shade that cooled the sand of a corridor of coconut palms. Six, sixteen, sixty other variations on the palm theme sprouted flowers, fruits, broad leaves, long skinny spikes, living fences between neighbors, hedges with nests under windows.
I dried off, shivering, checked my shoes for scorpions, and trekked along the white ribbon of packed sand. I saw hyacinth, a tall gray-barked tree with white and lilac flowers that yellow and black butterflies loved. Red dwarf mangroves kept the tip of the peninsula from washing away, and pines lined dirt roads off behind the far side of the row of houses. I wandered past waddling pelicans and cantankerous seagulls, a pile of conchs sawed in half, defensive crabs and furtive lizards to a dirt park with no hope, too much shade, and a broken bench under a towering ceiba tree. Its roots sculpted walls and canyons out of wood, and its impenetrable canopy loomed over everything the way I imagine Buddha's banyan did. Protective, peaceful, enfolding, and unfolding. Yaxte to the Maya, their world revolved around the axis of this world tree. In the glyphs, its colors are green and blue with white to the north, red for the east, black for west, and yellow south. It's also called the Kapok and a hundred other names by people around the world who revere it as the world tree. It's used for everything from cooking oil to life jackets, but the most ingenious uses are tempering Ayahuasca so it doesn't kill you and blow guns so they do. My stomach grumbled.
Meandering back to main street, a hummingbird drew my attention to two elegant yellow-green hued blooms with dark violet freckles and to my eye the overt, emphatic sexual organs of both sexes. It was the Black Orchid, and it could go fuck itself.
A weathered limb hung limply over Maureen's porch railing. Wedged between long thin spidery fingers, a hand-rolled cigarette wafted existential curlicues of smoke into the void, pretending death never comes Lower vines from the same trunk creep between slats, wound around a chair and a table. Untended, these invasive species exploit every crack, slowly inch their way up to the honeypot and before Maureen knows it, the insidious bastards penetrated her grease trap.
These same lianas kept Rich perched on the hind legs of the top of the world with his back against the wall. He sat on the unidentifiable remains of what may have once formally served as a chair. For Hammurabi perhaps. The bomb crater in the center of his chest looked darker than usual. Knotty deformed skin proved his saying, Don't pull a grill of flaming charcoal down your shirt when you're three. His wisdom quotient is very high now.
Rich had that look of smug self-satisfaction you see on big cats licking baby gazelle blood off its claws His breakfast plate, yolk yellow and bloody ketchup, was a murder scene. A strike deployed crumb bombs.
"Bom Le Le."
"Bom Le Le."
What I saw was not the face of god or the back of the face of god or the backside of god or the Heavenly Gates, holy of holies, Eden, paradise... Because what I saw was much better. It was all of my possible futures and realities, the inspiration of my life, my salvation, cause, belief system, the feminine ideal of beauty that would be my experience of it in this world. My goddess, my alpha, omega, everything between and beyond. She would bring the light of the world into my life. That light would spiral into infinity. Into the light of the heavens. For epochs.